This good-hearted integrity is the focus of their Hey Now music video. Set on the fictional, American Bandstand-esque Dick Dickey Show in 1962, "The song's 60s energy is what inspired the setting," Gariano says. Beyond the upbeat tempo and playful, retro energy, the video touches on social justice topics that include race, gender, and sexuality. "The song [disses] gender norms with crushes and dating so we wanted to expand on that idea. We didn't want to sugar-coat the 60s because there were so many issues that are still prevalent today," Chavis explains.
Referring to these race, gender, and sexuality tensions, "…that time period is so often glamourized without awareness of all the things going on," Gariano adds. The video features Night letting loose and moshing with the crowd, Morando opening the doors to welcome banned African American kids, Chavis kissing both a girl and guy, and Gariano ditching a stuffy wig.
The music video for Seashore, realized and directed by the "genius" Claire Vogel, is in the same vein as Hey Now in regards to social messages but zooms in on feminism. Seashore features Night taking charge as a presidential figure standing at a podium telling you she "won't give you a little twirl" and "don't act like you're so tough." I asked if the song came to fruition due to the women of the group receiving sexist and derogatory comments. Morando, the group's only male member, says that regardless of gender, "Everyone can relate to that. People talking down to you and telling you what to do, while they're just trying to compensate for something."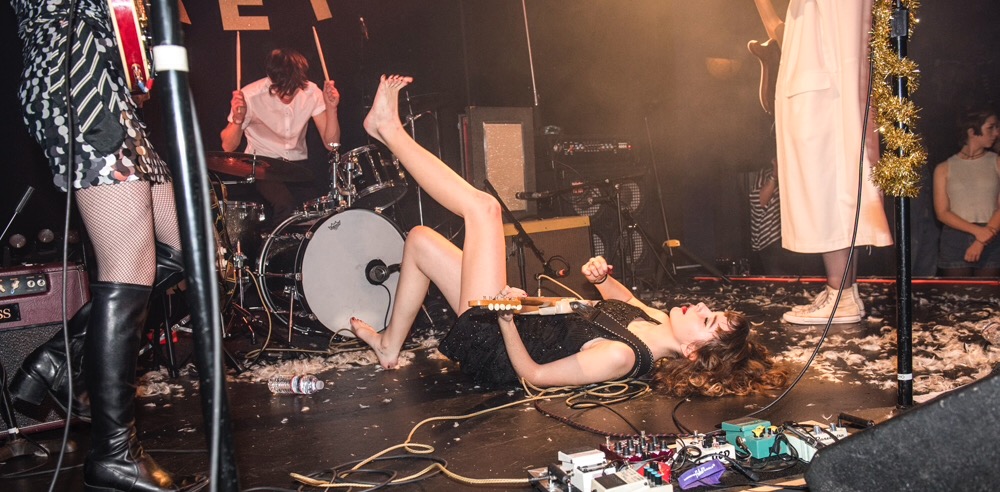 Even after performing this song live, Gariano notes there can still be a lack of tolerance and respect for the group, which begs her question, "…didn't they JUST hear us say we don't want to be treated that way?!"
Similar subject matter is tackled in the tracks A Living Human Girl and Ladylike / WHATTA BITCH. The Regrettes are comprised of feminist individuals—there's no doubt about it—but Gariano advises proceeding with caution when approaching these dicey issues. "I think it's important for us to tread carefully since we are WHITE feminists.
"There are a lot of things that we can not relate to first hand but being in a position with a voice we can lead people to those who do speak from experience and whose have even more important things to say."
The Regrettes stand their ground but know their place when broaching such sensitive and salient topics as being "a living human girl." Hear them loud and clear, but don't be surprised if they point you away from themselves and towards those with more experience in certain issues.
They may even be the catalysts who make you take a hard look at the ground you stand on.
ChavisD, Gariano, Morando, and Night remind us to be aware of the bullies and be aware of ourselves. Now that is very punk rock.
instagram.com/theregrettesband
twitter.com/regrettesband
theregrettes.com
facebook.com/regrettes
Lydia Night
instagram.com/lydianight
Sage N. Chavis
instagram.com/sagenicole
Maxx Morando
instagram.com/mmaxxm
Genessa Gariano
instagram.com/genessa.jpg
editor Janice Bremic Blum
---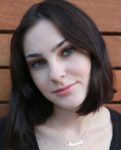 Natalie Durkin is a content contributor and social media assistant at TribeLA. She is a student at Bard College in New York's idyllic Hudson Valley and returns intermittently to L.A. to see her parents and black Labrador Retriever, Buoy. Don't ask her what she is majoring in; she doesn't know yet, but she plans on pursuing a career in drama therapy. Once, she was a debutante. Sometimes, she is an actress, waterskier, and snow skier. She is always a Sex and the City fan, animal lover, and proud Angeleno.
Pages: 1 2