By Janice Bremec-Blum
August 6, 1945, the first atomic bomb was dropped in Hiroshima, Japan marking the end of World War II. The horrifying aftermath of that bombing still lingers today, 73 years later.
In late '80s, artist Sandy Bleifer went to a papermaking conference in Japan. While there, she took the bullet train to Hiroshima and visited the Peace Memorial Museum, http://hpmmuseum.jp that houses numerous artifacts, videos, and documentation venerating the imprint of that world changing event. "I was pretty shocked, because I have not really been that much aware of what had happened. Coming back from the trip, I sketched the series that I wanted to do, to memorialize what I had seen."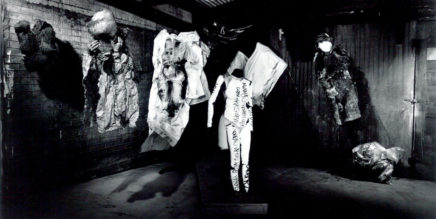 Over the next three to four years, Sandy created the pieces that makeup her exhibit. Employing the medium of paper, her work uses patina and texture applying various methods to stress or challenge the integrity of the paper. "Paper stands for leaves in some of my work and rocks in the figurative work, stands for skin and in some cases, the clothing. I find subjects that different papers can describe or suggest and apply those to the figure."
It was the 50th anniversary of the end of the war, when Bleifer began traveling with her exhibit and opened up conversations with people effected by the tragedy. "It wasn't something Americans were particularly proud of and there were a lot of people still alive from the bombing of Pearl Harbor who gave reason not to do the Hiroshima project. It was an uphill battle."
Another decade has passed since her impassioned expression of Hiroshima however, the impact of that time is still prevalent today. "We're in a very precarious position in the world, especially with all of the missteps in diplomacy that our President has undertaken with two nuclear-armed world countries, Iran and North Korea. We need to be reminded of how this all ends, this is not just another bomb. This has huge consequences for the survival of the planet." Bleifer is involved with anti-nuclear groups as well as peace groups. "There's a heightened concern that we are closer and closer to an accident or an on-purpose. It has to come back as something tangible."
Touched by a recent article in The New Yorker, https://www.newyorker.com/books/double-take/sunday-reading-war-stories giving firsthand narratives about what the bomb did to the people, Sandy likened it to her work, "…it's what my exhibit does in visual form." She feels that, "the Japanese are not people who put their personal suffering out there above anybody else's and they don't complain. But the first-hand testaments, like we have of survivors of the Holocaust, make a big difference when people know specifically what the bombings did…the long-term effects of radiation and what it did to children and people's reproductive tragedies."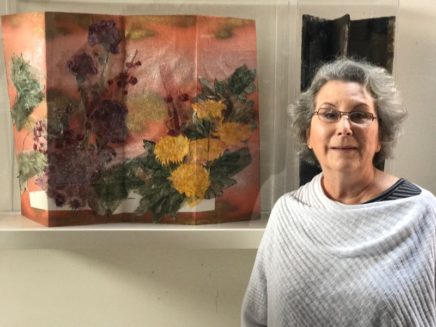 When Sandy initially exhibited her work back in the mid '90s, she felt that people were not used to the idea of art being a tool for social change or a tool for expressing didactic material. "Now, every cause has its children's art day and they have exhibits that they use as focal points for lectures. The Climate Museum and The Natural History Museum, for example, are both using artwork with professional artists and are launching projects with children and other communities to get them involved in creating art." She feels that art is just like language. "If you have a subject that you can make a picture of, rather than write a story about, you're still telling a narrative and you still have to take a position. You have to come to some conclusions before you make a mark on the paper."
Using art, in its many different forms, to communicate the concerns of social causes, transcends language differences thereby making it accessible to all people. Sandy Bleifer's work speaks volumes and yet never utters a word. That is the impact of the visual arts.
Read part 1 of the Hiroshima/Nagasaki story, and see other art from Sandy Bleifer:
New Year ART REVIEW with Sandy Bleifer's "Hiroshima/Nagasaki Memorial project" included a live human performance Exhibit – (Watch this remarkable video on the 'Essence of the Soul')
ART TODAY 07.28.17: The "River Rocks Series" by Sandy Bleifer, sharing her art-making methods
---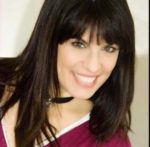 Janice Bremec Blum is an author and Editor-in-Chief at TribeLA Magazine. She is also a multi talented make-up artist with an MFA in Creative Writing from Antioch University. Her extensive background as a makeup artist in the Hollywood entertainment industry has empowered her to write a book on beauty and make, soon to be released. "The best part about L.A.," says Janice, "it's so diverse and encompasses many different ethnicities and yet no matter who we are or where we hail from, at some point, we will all find ourselves stuck on the 405!" Janice, a fiction writer and her husband Hunter (both art collectors) live in Los Angeles. You can email Janice at janice@tribelamagazine.com.