I love anything cosmic, so I love Gingee: a bona fide, self-made goddess. Her creative prowess spawns an array of mediums, from spoken word poetry to 'zines to her main gig making "Filipinx Global Bass". She flows with the cycle of solstices and equinoxes and understands the value of letting creativity find you.
T
Natalie Durkin (TribeLA Magazine): Give yourself and your work a tagline and tell us why.
Gingee: Filipinx Global Bass. Because that's what my music combines: global sounds with Filipino traditional sounds and raps.
R
ND: What got you started in music? What is the reason you are here today?
G: My family. They were always very musical. I grew up surrounded by records and instruments and jam sessions, so it came naturally. I stuck with it because I realized I had things to say and music was the most effective way to deliver that message. I realize there aren't many women that look like me that are being represented within the music industry (I'm Filipino American) so that inspires me to push harder for more visibility for my community.
I
ND: How do you hope to influence your audience?
G: I would like to be an example of an independent female artist who produces her own tracks and experiments with different genres/sounds. I also love the idea of inspiring people to dig deeper into their musical and cultural roots and learn more about indigenous/traditional music cultures. I also want to inspire young women to pursue their creative dreams and be fearless in manifesting their vision.
B
ND: What do you do when your creativity is blocked?
G: Whatever it takes to unblock myself! If this happens, I go within to figure out how to shake things up, whether [it's] processing what I'm feeling through writing, traveling somewhere new, changing up my creative space, collaborating with another artist or coming up with a new plan to make my next project. You could also try just publicly announcing projects you haven't created yet. It tends to give you a bit more motivation. That's what I did when I announced my year long album project where I released a new EP every solstice and equinox.
E
ND: What fires you up and gives you energy?
G: I love going to festivals, especially the ones where you camp out. Something about being outside and being around crowds of music lovers and big sound systems gives me life and renews me every time. And of course, being in the midst of a creative project and in my inspired flow makes me super happy.
L
ND: Can you tell us a little known fact?
G: I got my start performing as a spoken word poet. I used to participate in slams and open mics. That's where I got my performance chops and learned to get over stage fright (although, okay, doing karaoke when I was little was a type of training, too.) I also used to publish my own 'zine of writing and art and sell it at school and through snail mail.
A
ND: Where is your favorite place in Los Angeles and why?
G: Northeast Los Angeles will always have a special place in my heart because that's where I grew up. I feel that there's a unique energy here, it's a little more chill than other parts of the city. I grew up in Eagle Rock. We have a giant rock with a naturally occurring imprint of an eagle on it.
M
ND: How do you make music? Briefly chronicle your creative process.
G: I use Ableton software along with MIDI controllers and a simple recording setup. It varies, but I usually start with an idea of what type of track I will be making. From then on, I decide the track's Beats Per Minutes (BPM), whether it'll have vocals on it, and just work on making a skeleton and filling it in. I experiment with different sounds and recording instruments. It's like a cut and paste project; I refine as I go along. I do the mixing and test it out on different systems, then once it's done I send it out for mastering.
U
ND: What is coming up?
G: I'm going to be releasing more music, and I'm planning to do a US tour along with my visual artist Sick Delicious (details TBA).  Planning on making a music video too, and overall getting more experimental and creative with my content.
S
ND: Describe your style – musically and otherwise.
G: Percussive, experimental, funky, colorful, eclectic, global; a mixture of dance music and global sounds.
I
ND: What is the best advice you've received and the best advice you can impart onto us?
G: Best advice I got is straight from my mom who never fails to point out if I'm not taking good enough care of myself – your health is top priority, so don't put off practicing self-care of mind, body and soul in whatever way works for you. Don't let that energy stagnate. My advice would be to stay persistent and be patient with your growth as an artist. It may take years until you succeed in bringing your ideas to fruition, but if you work hard and stay determined you'll end up at the very least better at your craft or with some finished projects to share with the world.
C
ND: Any closing words?
G: Thank you for interviewing me, sending passion and inspiration!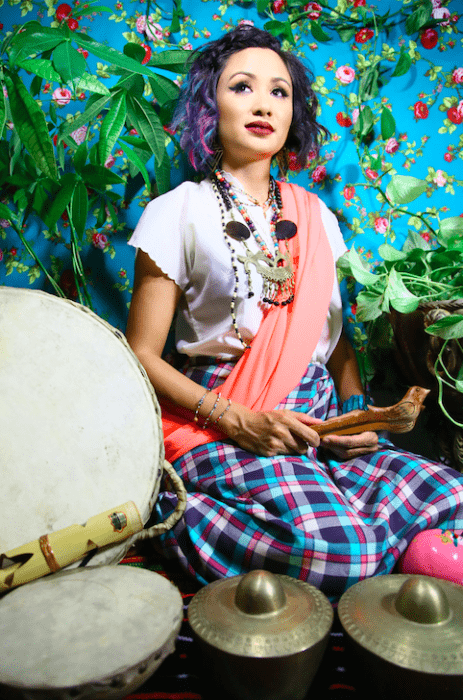 more Gingee