photo by Jason Avina
Only 2% of producers and engineers in music are women and you're about to meet one of them. Shayna Adler is a Long Beach-based Americana artist and part of the coveted 2%.
T
Natalie Durkin (TribeLA Magazine): Give yourself and your work a tagline and tell us why.
Shayna Adler: I tell everyone that "I have a fully acoustic imagination!" This sums me up perfectly. As an artist and recording engineer, I have been so inspired by the magic and romance acoustic instruments bring to songs.
R
ND: What got you started in music? What is the reason you are here today?
SA: Both my parents are musicians, so I've always been around music. I participated in musical theater in elementary school and middle school, and went on to marching band and orchestra in high school: I played the alto saxophone, violin, and oboe. As an adult I began to explore songwriting and singing as a creative outlet, and a way to express my feelings.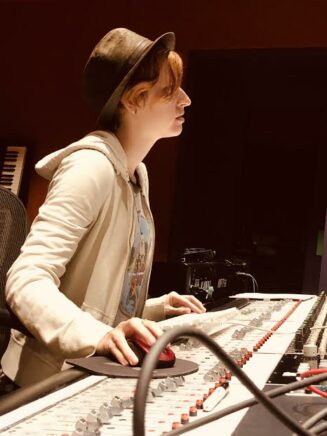 I'm a shy kid and not a very eloquent speaker—I'm pretty awkward in person. I grew up visiting a speech therapist for years to overcome a motor disability in speaking—still problematic, but it's not obvious to others. Nowadays it comes off as the occasional stutter, slurred syllable, or slight lisp. I never imagined becoming a singer for a living, but its empowering! I guess the reason I'm here today is because music gives me a voice.
I
ND: How do you hope to influence your audience?
SA: My songs have stories with characters and adventures, much like how the 60's and 70's folk songwriters wrote. I feel like this has become a lost approach to lyrics in today's world. I hope to bring my audience into entire new worlds, where they can escape from ups and downs of this one.
B
ND: What do you do when your creativity is blocked?
SA: I return to my inspirations—I listen to my favorite records or explore new ones on Bandcamp or Youtube. But the best thing I can do is to try and write anyway—even if it's just journaling to unload and unburden my mind. Meditation and relaxation helps immensely. But strangely enough, I can't tell you how many songs I've written while driving!! They just come to me! I'll speak or sing into the Voice Memos app on my iPhone to record them until I can get home and fetch my guitar.
E
ND: What fires you up and gives you energy?
SA: I'm 31 years old—I realize I'm still young and still starting out, but I'm always aware of my time. I want to travel the world and own a house someday—I'd love a HUGE garden!! But time's moving so fast—my 20's went by like a tornado, and there's so much I haven't accomplished yet. I went through a divorce in 2014 and ended up couch surfing and sleeping in my car. I worked two jobs while I was going to audio engineering school. But it's paying off—I'm an assistant engineer at a state-of-the-art studio in Glendale, and last year I spent two tours as the tour manager for a rock n roll hall of fame guitarist. You'd never believe the amazing musicians I work with now. I'm proud to be one of the 2% of female engineers/producers in the music industry.
I'm committed 150% to music. I'm playing my guitar, emailing bookers like a mad woman, rehearsing, researching, doing online music business classes at Berklee College of Music—I'm working seven days a week! I don't run out of steam, if anything, I move faster, and I will never give up.
L
ND: Can you tell us a little known fact?
SA: I grew up riding horses, and when I was 17 (a junior in high school) my dad enrolled me in horseshoeing school—it was his way of offering an alternative career to that of a horse trainer (which is where I was heading at that time). I spent a summer hammering steel on an anvil. The farrier work didn't stick. When I graduating high school, I lived in Ireland for several months, working at a breeding farm for Irish Draught horses.
A
ND: Where is your favorite place in Los Angeles and why?
SA: I love LA, but Long Beach (still in LA County!!) is my home. My favorite place is Rancho Los Alamitos.  It's sort of hidden behind Cal State Long Beach and almost no one knows about it. It's this beautiful 1900s property with an adobe home, a draft horse barn with harness and saddle displays, and extensive gardens with roses and California native plants that I live to walk through. Going there is like stepping back in time, and who doesn't love to visit with chickens, sheep, and horses?
M
ND: How do you make music? Briefly chronicle your creative process.
SA: I'm a lyric junkie. I'd say 90% of the time I start songs by coming up with "the story" first. I write in a rhythm so that I can place the lyrics over music later. On occasion, I hear the lyrics, the melody, and the chords in my head and it all flows out in less than five minutes when I pick up my guitar. My upcoming single, "Stagecoach Sally" came out just that way.
U
ND: What is coming up?
SA: I have an amazing year ahead of me!! My single "Stagecoach Sally" will be out Friday, May 10th. I'll be touring starting April through the rest of the year, and I'm recording my debut album soon! It'll be produced by Michael Dumas (Dwight Yoakam, Lucinda Williams), and Grammy-winning Producer Joshua Sklair (Etta James).
S
ND: Describe your style – musically and otherwise.
SA: I create Americana, even though I don't sound "country." It's folky and storytelling, but some of my songs have strong folk and jazz undertones. I know everyone says this about their music, but what I'm creating is something entirely new. I think part of the reason it took me a long time to come into my own as an artist, is because I look out into the musical world and can't find anyone else that sounds or does something remotely similar to me. The closest is maybe k.d. lang, but my lyrics are something closer to Jim Croce.
I
ND: What is the best advice you've received and the best advice you can impart onto us?
SA: The best advice I've received from other artists is to stick to my vision, and create first for myself—not for others. I would tell other artists and musicians the same, to stay honest and stay original.
C
ND: Any closing words?
SA: When I'm struggling, I remind myself that "this too shall pass" and that any problems or obstacles I face are only temporary. I love music and I can't see ever doing anything else with my life. I hope you see me at the top some day!
more Shayna Adler
Bandcamp / Facebook / Instagram / SoundCloud / Spotify / Twitter / YouTube