The Debt Ceiling
TribeLA Magazine Acrostic Interview.3 with illustrator Joe Rocco, a dreamer "in the land of dreams"
Energy: What fires you up?
A lot of things fire me up and inspire me. I mostly try to tap into the way I felt as a kid and the fun I had when I discovered "being in my own head" and exploring a whole universe of endless possibilities. I'm excited when I get an assignment from an art director to solve their problems visually with my style, talent and choices. It's challenging, and an illustration could go South so easily if I make poor choices so the challenge is in coming up with a strong concept and executing it with skill, craft and as much panache as I can afford. 

When working on comics I have to say that politics lately fire me up. It's obviously an explosive time in our political landscape and everyone has a strong opinion about where they stand, so I can't help but express that through my comics.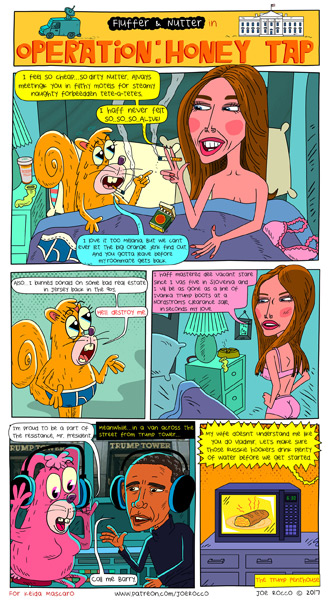 Los Angeles: Where is your favorite place in Los Angeles? Where would you take visitors? If you could defend the city in one sentence to someone who doubts it, what would you say?
Max and I love the fact that we can drive to the back of the "Bewitched" house on Oak street in Burbank and imagine Agnes Moorehead floating above the roof. It still stands at the Warner Ranch and it tickles us that we can peek at it through the fence. I also love any of the old Hollywood gems that are still around because they hold a lot of stories and ghosts. If the Chateau Marmont or The Dresden could talk…
I always defend Los Angeles as a place for people who love movies because everywhere you turn you will find a location from some famous life-changing film. It may be a cliche' but there's a reason why they used to call this the "land of dreams". I'll always be a dreamer and I'm proud of that.
To be continued tomorrow…
For more about the world inside Joe Rocco's head, click the links below:
Visit Joe's Patreon site to read more of his comics: https://www.patreon.com/JoeRocco

Main website: http://www.secretsaucestudio.com

Radio Interview: https://www.patreon.com/posts/interview-with-2667888

---
Joe Rocco is an award-winning American illustrator and designer with over 27 years experience in editorial publishing and animation. Joe's work has been centered on Entertainment and Children's publications and for 7 years he art-directed a popular children's website that included game, print and web design. He also has several children's books published through Harper Collins, Scholastic and National Geographic Kids Publishing.
Joe's featured line-up thus far:
New Year ART REVIEW with "The Jewish Origins" of Superman by "Joe Rocco
ART TODAY 08.28.17: Back to School? Amazing children's books illustrated by Los Angeleno Joe Rocco for National Geo Kids and Harper/Collins Publishers