Harold James Cleworth is perhaps the most well known automotive artist working today. Born in the industrial North of England during the Second World War, he quickly developed a love for the aesthetics of machinery, and began painting the local Orwellian landscape. Several one-man shows were held in local pubs and libraries during his teenage years.
Graduating from the prestigious Manchester College of Art in 1967, he moved to London to work for Decca Records, illustrating the first album covers for the Rolling Stones, The Who, and other new groups.
In 1972, frustrated with the London scene, a trip to California convinced him to stay and begin his career as a fine artist, choosing the Automobile, his first love since childhood, as the subject. A series of posters followed, amongst them the black 300 SL Gullwing Mercedes, which rapidly became the most popular automotive image on the market. The Chase Manhattan Bank of Zurich bought his first original, and private collectors began to commission him to paint portraits of their Bugattis, Duesenbergs, and Ferraris. Galleries invited him to exhibit in San Francisco, Santa Monica, Beverly Hills, and Carmel.
The press discovered him, stories appeared in all the automotive journals, AutoWeek dubbed him the "painter laureate of the car," and the LA. Times ran his life story. Corporate commissions followed from Ford, Chevrolet, Saab, Isuzu, and Lincoln Mercury, all of whom desired portraits to introduce their new models. Posters were produced for the L.A. and Chicago Auto Shows, and the Newport Beach Concours d'Elegance, at which he was an honorary judge.
Cleworth has firmly established himself as one of the world's leading 'auto-biographers', whose trademark of super-realism has become instantly recognizable, and whose forty-year dedication to the subject has proved enormously successful.
Here's what AutoWeek had to say about Harold Cleworth and his book
"The painter laureate of the car" is what —AutoWeek had to say about our Artist of the week, Harold Cleworth.
Be dazzled by gorgeous paintings from award-winning automotive artist Harold Cleworth. From illustrating the elegant curves of the multimillion-dollar 1936 Bugatti Atlantic, to perfectly depict the brilliance of the head-turning red of Ferraris past and present, Cleworth brings an incredible photo-like quality to his work that not only captures the beauty of a car, but elevates it. With a precision that is beyond photography, it is no wonder that he is one of the world's most sought-after artists: commissioned by car companies to paint originals of their newest models, and by celebrities and private collectors to create portraits of their beloved automobiles.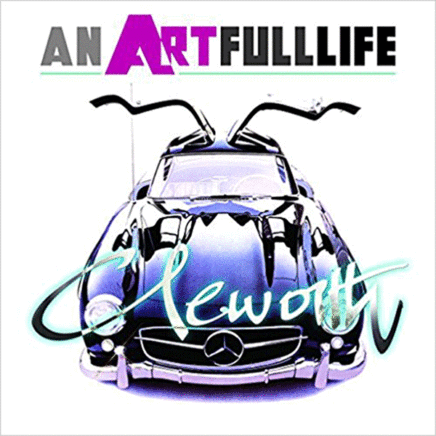 CLEWORTH: an ARTFULLlife is the first publication to compile his life's work, and is a captivating visual journey of an illustrious career that has spanned almost four decades. A must-have for automobile aficionados, it features Cleworth's most highly coveted paintings to date, and the fascinating stories behind them.
CLEWORTH: An ARTFULLlife is an amazing coffee table book for automobile aficionados. Chronicling the work of world-renowned artist, Harold Cleworth, this book takes us on a captivating visual journey though the illustrious career of a man called the "painter laureate of the car".
With a profession that started at Decca Records, creating album covers for then newcomers Rolling Stones and The Who, Cleworth has had two incredibly successful careers, this book focuses on the second – that of an automobile portrait artist.
Original automobile paintings that use his trademark technique of "super-realism" decorate the walls of celebrity's homes such as Jay Leno, Nicolas Cage, and John Schneider. With such photo-like quality of his pieces, it is no surprise that he was commissioned by automotive giants Chevrolet, Ford, Lincoln, Mercury, Isuzu, and Saab to paint originals of their newest models. In addition to corporations, Cleworth has been commissioned by international private collectors to paint portraits of their automobiles. As a result of the high demand for his paintings, he typically only paints six or seven a year!
CLEWORTH: An ARTFULLlife is the first publication to feature Harold Cleworth's collection of highly coveted artwork to date, and is a must have for collectors of both art and automobiles.
ART TODAY 09.22.17: Bugatti at the "LA Auto Show" – Tomorrow, meet the man behind the art and view recent works by Harold Cleworth
ART TODAY 09.21.17: "Baby on Board" the Santa Monica Freeway…Harold Cleworth
ART TODAY 09.20.17: The 1966 Dodge Charger in Venice – "the most colorful and diverse city in the world" by Harold Cleworth
New Year ART REVIEW of Venice Beach Lowriders – "Can't go wrong with some Graffiti and Lowriders" says Harold Cleworth
ART TODAY 09.18.17: Harold Cleworth illustrated the first album covers for the Rolling Stones, The Who, et. al. – but the Automobile is his first love
ART TODAY 09.17.17: Automobile aficionados, "The painter laureate of the car," Harold Cleworth, is parked in Venice