Rather you plan to staycate at home, in a nearby spiffy boutique hotel … or vacate to a relaxing resort in the wine country; TribeLA Magazine will explore some of the hot & cool spots and give you the lowdown
The Allegretto Vineyard Resort
The Allegretto Vineyard Resort opened about a year ago and it is the first of its kind in Paso Robles Wine Country, which is a world unto itself. A little over 200 miles from L.A., this vacation destination is nestled on 20 acres that include wine-grapes, olives and fruit trees, 171 guest rooms and suites, a restaurant with chef's garden, wine bar, 12,000-square-foot courtyard, pool and cabanas, spa, Abbey (a multi-use French-inspired chapel), ballroom, indoor and outdoor event space, walking paths, manicured Mediterranean gardens, specially crafted vignettes, and arts and artifacts that invoke the luxury, warmth, and beauty of la dolce vita.
Allegretto is a musical term describing a moderate tempo, 112-120 beats per minute, neither too fast nor too slow, it's light, graceful and comfortable. The Allegretto Vineyard Resort was aptly named for the sense of joy, comfort and harmony that guests feel upon arrival. "Our mission is to inspire and create joy in every aspect of our guests' stays," said General Manager, Anna Olson. "'Allegretto' is our 'Aloha'.''
The Allegretto Vineyard Resort is devoted to culinary excellence. Cello Ristorante & Bar is an upscale yet casual Mediterranean-inspired restaurant that enchants locals and visitors alike. A culinary getaway, Cello brings guests' senses deeply into the Allegretto culture of discovery with creative dishes made from regionally foraged ingredients, warm hospitality, an extensive wine list, local artisanal beers and craft cocktails.
Executive Chef and Food & Beverage Director, Eric Olson, brings a world of experience and a global culinary education to Cello, where his talent for eclectic menu-crafting and formal training combine to accentuate Allegretto's warmth and authenticity. The restaurant opens to a patio with iron fire bowls and a bocce ball court that takes advantage of Paso's beautiful warm evenings and sunsets.
Whether for an energizing breakfast, productive lunch, romantic dinner or night on the town, Cello is Paso Robles' destination restaurant with the highest standards, service, and commitment to delighting guests. "Our promise of quality will be available whether guests are dining pool side, in-room or at events on- or off-property," said Chef Olson.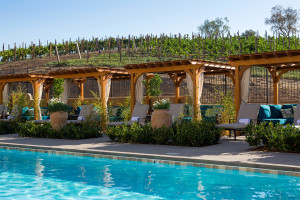 The Spa at Allegretto is ready to welcome guests to relax and rejuvenate in the zero-gravity chairs, infrared detox sauna, or with a massage, facial, and body treatments. Additionally, the spa offers a Wellness Program featuring Chära (a dynamic alternative to yoga) exclusively at Allegretto, as well as Barre & Balance, HIIT, and Glow Dance Fitness classes. Find more information about the Spa at Allegretto by visiting www.spaallegretto.com.