Beautiful Erin Hanson Flowers Next to the 5-Freeway
by Hattie Xu
Photographs by Miranda de Moraes
​Walking along a cracked road under a stained concrete overpass of the 5 freeway, I emerged from the shadow and feasted my eyes on drying trees and flat, rectangular structures. From the buildings, to the street, to the sidewalk, I was overwhelmed by the feeling of grey. But then I walked into the Erin Hanson Gallery on Gilroy Street in Los Angeles and was suddenly overwhelmed by a force of nature at its most vibrant.
​"I just want people to be happy when they see my paintings" says artist Erin Hanson. In her studio, golden frames surround large panels of dizzying flower fields, jagged red cliffs, rivers trickling over rocky beds, and dense mountain forests. Erin's art draws inspiration from the great outdoors. Whether she is visiting a new city for a show or touring a national park, she is constantly in search of scenes to paint.
Many of her works are inspired by her experiences rock-climbing and backpacking—she still takes week-long trips once or twice a year for the sheer enjoyment as well as to find more material for her paintings.
​Erin has developed a personal style, called "open impressionism" making oil paint her primary medium because she likes the texture and its resemblance to the great Vincent van Gogh.
However, classical impressionist paintings featured narrow brushstrokes and were built with layers with the artist letting paint dry before adding another layer of color. Erin lays colors next to rather than on top of each other making heavy use of underpainting, which often functions as a facet of light and slightly tints the other colors to create a more unified painting.
Erin infuses her works with movement and light in order to capture the "transience of time." While there is incredible spontaneous movement in each nature-scape—palm fronds swaying in the breeze, magenta clouds swirling through the cobalt sky, flowers leaning towards one another, whispering—all of Erin's paintings are intensely calculated.
​"I [paint] a lot of early morning light and sunset light, and you only see that [lighting] for maybe three or four minutes," she said. "And so, it's like the image itself is already in motion and time. I'm trying to show that the moment is fleeting. And, there's just so much natural motion outside."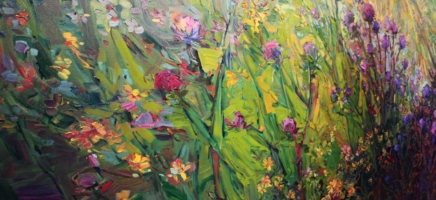 ​Erin's methodical approach has allowed her to fulfill a promise she made to herself years ago—to create one oil painting a week. Throughout her career, she has produced over a thousand pieces. While Erin's success with her art has enabled her to make a living through painting, she remembers a time when it was not always this way. Erin encourages aspiring artists to constantly create, and not to "get caught up with creating masterpieces."
Instead of abandoning a painting out of frustration when it isn't going the way it should, she believes in persistence and finding a solution to the problem. This belief has allowed her develop a personal technique and become a better artist. Her oil paintings stand out in a crowd and bring a fresh new look to Western landscapes.
*According to the Wall Street Journal, one 1993 study found that patients exposed to a nature image experienced less postoperative anxiety and were more likely to switch to weaker painkillers than those who viewed an abstract image or no image. 
---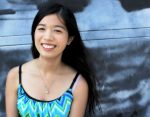 Hattie Xu is a staff writer at TribeLA Magazine and a student concentrating in cognitive neuroscience at Brown University. She is curious about the intersection of the mind and the brain, and she aims to use both science and journalism to more thoroughly understand how people think. Outside of class, Hattie enjoys exploring large cities, discovering the diverse cultures that exist within them, and listening to people's stories.
Staff photographer Miranda de Moraes is talented at many things. Instilled with the L.A. spirit and Brazilia-way, as a child of an amiable Angelino and a proud Latin, Miranda has always been encouraged to approach and engage in new opportunities. Her passions range from scrawling stories to capturing through cameras to assembling apparel to reporting realities. She is currently studying communications and University of California, Santa Barbara.
More Erin Hanson…
https://tribelamagazine.com/art-today-06-18-17-erin-hanson-brightens-our-walls/
https://tribelamagazine.com/art-today-06-19-17-borrego-in-bloom/
https://tribelamagazine.com/art-today-06-20-17-coastal-cypress-news-erin-hansons-fine-art-canvas-prints/
https://tribelamagazine.com/art-today-06-21-17-rocky-shore-by-erin-hanson/
https://tribelamagazine.com/art-today-06-22-17-erin-hansons-joshua-tree/
https://tribelamagazine.com/art-today-06-23-17-clouds-above-by-erin-hanson/
https://tribelamagazine.com/art-today-06-24-17-erin-hansons-zion-vista/