When film publicist Sasha Berman sends something over, we pay close attention to her indie films, which have artistic characteristics different from U.S. films — a certain rawness.
They are culturally based, provative, and the subtitles give the film an even more intriguing perspective, as we found it so with her most recent premiere, AFTERIMAGE.  Los Angeles Times film critic Robert Abele had this to say:
Andrzej Wajda's "Afterimage" feels vividly connected to the Polish auteur's beginnings, yet also acts as the kind of haunting close that sums up a life.

Source: A political filmmaker's swan song chronicles a haunting close to an artist's life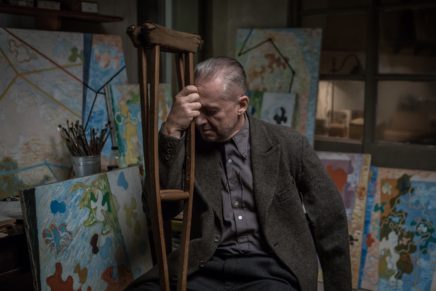 AFTERIMAGE opens at Laemmle Theaters on May 26th. A national release will follow. The film is about Władysław Strzemiński, Poland's best-known interwar artist and a theoretician. It opens with Strzemiński (brilliantly played by Polish superstar Boguslaw Linda), a controversial and visionary artist (who only started painting after he became a double amputee), working in his apartment, only to be interrupted by the unfurling of the Soviet flag outside his window.
As Stalinism spread to Poland, the unbending Strzemiński refused to compromise his art for the sake of the preferred socialist realism style. He eventually became persecuted and expelled from his Chair at the Łodz Academy of Fine Arts, but the ever-compelling and charismatic teacher was surrounded by loyal students who emboldened him to fight against the Party while they themselves risked jail for publishing his book (posthumously).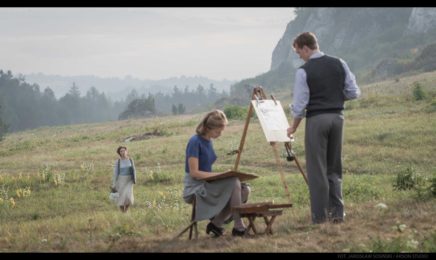 Strzemiński, who created the concept of Unism, was a co-founder of the constructivist group Blok and the founder of the Museum of Modern Art in Łodz. AFTERIMAGE refers to a series of late-1940s Solarist paintings by Strzemiński, who was friends with Marc Chagall, Alexander Rodchenko, Kazimir Malevich and was once married to the sculptor Katarzyna Kobro. Their daughter Nika, played by the accomplished 13-year old newcomer Bronislawa Zamachowska, figures prominently in the film. After Strzemiński became a persona non grata, his art was "erased" from museum walls, but over the years he has come to symbolize artistic resistance against intellectual tyranny.
Director Andrzej Wajda passed away on October 9, 2016 in Warsaw at the age of 90, nearly a month after the world premiere of his last film, AFTERIMAGE. For more than half a century, Wajda crafted a filmography that encapsulated the essence of postwar Poland and constitutes, quite simply, one of the great legacies of world cinema. His last film is a biopic about avant-garde artist Władysław Strzemiński, who battled Stalinist orthodoxy and his own physical impairments to advance his progressive ideas about art.
Vimeo: https://vimeo.com/193425954