Monolith 24×24
All works, oil on wood
Painting of a cement plant in Bakersfield and cover of my book Monolith. An older favorite as I first started to get more abstract.
According to Artweek.LA, "Wray's works are not just paintings; they are chunks of the outside world transported onto canvas. It seems that for him, the rusted remains of our technology-driven world and the art-deco details of New York's iconic skyline are modern day monoliths, as full of cultural significance as the standing stones of pre-Christian civilizations."
TribeLA Magazine Acrostic Interview.6 
Entire Acrostic will publish tomorrow
Special: Who or what holds a special place in your heart? How does this factor into your creative process?
My girl friend Sharon and my parrot Mookie. •Sharon is good at judging if a painting is any good. Mookie just distracts me.
Time: What is your all-time favorite piece of writing/art/music you've created?
I love making any good painting, but I think the Superhero's are my strongest concept. My Writing would be my lurid oversized art comic: Happy Comics, a very dark humored one-shot book published by 3A.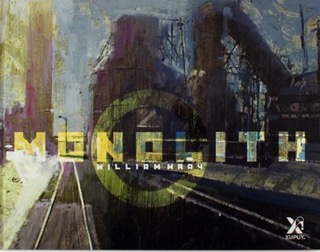 Want to see and read more about William Wray, follow these links:
http://williamwray.com
https://www.facebook.com/william.wray3
https://www.instagram.com/william_wray/
---
Get caught up on Bill from earlier this week
ART TODAY 09.10.17: Colors by William Wray with introduction by Chris Bonno
ART TODAY 09.11.17: William Wray art directed this memorial animation about John and Joe Rauch for 9/11, as their dad narrates – grab a tissue and check it out here
New Year ART REVIEW of Roomates – William Wray did this painting when he heard about the Batman v Superman movie – do you see Batman upstairs?
New Year ART REVIEW of "The Breakup" by Super Hero William Wray – watch the artist paint
https://tribelamagazine.com/art-today-09-14-17-william-wray-princes-cleaners/