photo by Kelly Dwyer
Daniel Webb brings Queer Southern Charm to stages across Los Angeles. From performing in drag as Toyota Lopez to dazzling audiences with stories of crippling single-dom, Webb's bright disposition and bubbly nature evokes neo southern hospitality.
T
Natalie Durkin (TribeLA Magazine): Give yourself and your work a tagline and tell us why.
Daniel Webb:
Only Gay When I'm Having Sex.
R
ND: What got you started in comedy? What is the reason you are here today?
DW: I was in a bunch of bands in Austin, Texas that all broke up, so instead of starting another band I decided to start comedy, because how could things get any worse? I moved to Los Angeles to pursue comedy and exacerbate my body dysmorphia.
I
ND:
How do you hope to
i
nfluence your audience?
DW: Make them laugh at everything and hopefully help them realize queer people are normal or whatever.

B
ND:
What do you do when your creativity is
b
locked?
DW: I play Marble Madness.

E
ND:
What fires you up and gives you
e
nergy?
DW: Evangelicals and other bigots who claim a moral authority but support a president and politicians that f–k around on their waves, use illegal money to pay them off, and let them get away with it because it's heterosexual in nature.
L
ND:
Can you tell us a
l
ittle known fact?
DW: Nancy Pelosi is really Amelia Earhart just reassembled with newer teeth.

A
ND: Where is your favorite place in Los Angeles and why?
DW: Selena's star on the Walk of Fame.
C
ND: Where is your favorite comedy

c

lub to perform?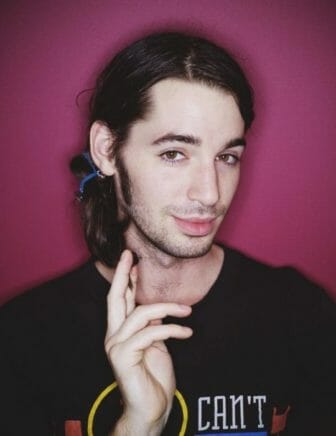 photo by Celesta Danger
O
ND: Do you engage in

o

ther art forms? What mediums of art inspire you?
DW:
I've played the piano for over 30 years, I'm a half-assed drag queen, and I have sex with men.
M
ND:
How do you
m
ake comedy? Briefly chronicle your creative process.
DW: I make comedy in many different ways, usually by exposing other people's bullshit or just commenting on The Bachelor; usually it's all based on trash.
I
ND: What is the best advice you've received and the best advice you can impart onto us?
DW:
Never dance on a round table.
C
DW: Rachel Maddow is appropriating Twink culture and it's time for it to stop!