It's Summer Reading time! Join TribeLA Magazine, Vroman's and Book Soup… Support your local booksellers.
Hardcover- fiction: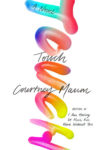 Touch by Courtney Maum. Delightful , thought provoking and timely, this fun quirky read invites us into the world of "techie consumerism," asking us to consider where this path will lead us. One of the New York Times Book Review- editors choice.
Sloane Jacobsen is one of the world's most powerful trend forecasters (she was the foreseer of "the swipe"), and global fashion, lifestyle, and tech companies pay to hear her opinions about the future. Her recent forecasts on the family are unwavering: the world is over-populated, and with unemployment, college costs, and food prices all on the rise, having children is an extravagant indulgence.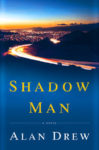 Shadow Man by Alan Drew. Crime novel set in SoCal- a bit of Michael Connelly or Joseph Wambaugh.
A novel of psychological suspense about an idyllic community rocked by a serial killer—and a dark secret.
Detective Ben Wade has returned to his hometown of Rancho Santa Elena in search of a quieter life and to try to save his marriage. Suddenly the community, with its peaceful streets and excellent public schools, finds itself at the mercy of a serial killer who slips through windows and screen doors at night, shattering illusions of safety. As Ben and forensic specialist Natasha Betencourt struggle to stay one step ahead of the killer—and deal with painful episodes in the past—Ben's own world is rocked again by violence. He must decide how far he is willing to go, and Natasha how much she is willing to risk, to protect their friendship and themselves to rescue the town from a psychotic murderer and a long-buried secret.
With fine, chilling prose, acclaimed author Alan Drew weaves richly imagined characters into the first of several thrilling novels of suspense featuring the California world of Ben Wade and Natasha Betencourt. Shadow Man reveals the treacherous underbelly of suburban life, as a man, a woman, a family, and a community are confronted with the heart of human darkness.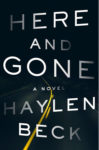 Here and Gone by Haylen Beck. Perfect summer read page turner. Available 6/20
Here and Gone is a gripping, wonderfully tense suspense thriller about a mother's desperate fight to recover her stolen children from corrupt authorities.
It begins with a woman fleeing through Arizona with her kids in tow, trying to escape an abusive marriage. When she's pulled over by an unsettling local sheriff, things soon go awry and she is taken into custody. Only when she gets to the station, her kids are gone. And then the cops start saying they never saw any kids with her, that if they're gone than she must have done something with them…
Meanwhile, halfway across the country a man hears the frenzied news reports about the missing kids, which are eerily similar to events in his own past. As the clock ticks down on the search for the lost children, he too is drawn into the desperate fight for their return.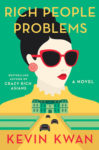 Rich People Problems by Kevin Kwan. Third in a successful series.
Kevin Kwan, bestselling author of Crazy Rich Asians (soon to be a MAJOR MOTION PICTURE starring Constance Wu, Henry Golding, Michelle Yeoh and Gemma Chan) and China Rich Girlfriend, is back with an uproarious new novel of a family riven by fortune, an ex-wife driven psychotic with jealousy, a battle royal fought through couture gown sabotage, and the heir to one of Asia's greatest fortunes locked out of his inheritance.
When Nicholas Young hears that his grandmother, Su Yi, is on her deathbed, he rushes to be by her bedside—but he's not alone. The entire Shang-Young clan has convened from all corners of the globe to stake claim on their matriarch's massive fortune. With each family member vying to inherit Tyersall Park—a trophy estate on 64 prime acres in the heart of Singapore—Nicholas's childhood home turns into a hotbed of speculation and sabotage.
As her relatives fight over heirlooms, Astrid Leong is at the center of her own storm, desperately in love with her old sweetheart Charlie Wu, but tormented by her ex-husband—a man hell bent on destroying Astrid's reputation and relationship. Meanwhile Kitty Pong, married to China's second richest man, billionaire Jack Bing, still feels second best next to her new step-daughter, famous fashionista Colette Bing.
A sweeping novel that takes us from the elegantly appointed mansions of Manila to the secluded private islands in the Sulu Sea, from a kidnapping at Hong Kong's most elite private school to a surprise marriage proposal at an Indian palace, caught on camera by the telephoto lenses of paparazzi, Kevin Kwan's hilarious, gloriously wicked new novel reveals the long-buried secrets of Asia's most privileged families and their rich people problems.
Fly Me by Daniel Riley. Set in SoCal in the 70's. Author is an editor at GQ who grew up in Manhattan Beach
The year is 1972, and the beaches of Los Angeles are the center of the world. Dropping into the embers of the drug and surf scene is Suzy Whitman, who has tossed her newly minted Vassar degree aside to follow her older sister into open skies and the borderless adventures of stewardessing for Grand Pacific Airlines.
In Sela del Mar, California-a hedonistic beach town in the shadow of LAX-Suzy skateboards, suntans, and flies daily and nightly across the country. Motivated by a temporary escape from her past and a new taste for danger and belonging, Suzy falls into a drug-trafficking scheme that clashes perilously with the skyjacking epidemic of the day.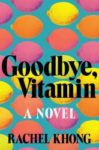 Goodbye, Vitamin by Rachel Khong. Life, heartbreak & love unfolds in moments of humor to those of crushing sadness. to chosen as one of Entertainment Weekly's top 23 most anticipated books of 2017. Available 7/11.
Xxxxxxxxxxxxx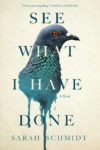 See What I Have Done by Sarah Schmidt. A fictionalization of the Lizzie Borden murders- our book buyer loved this and says it's fantastic. It's told in alternating chapters from Lizzie, the maid, a family friend, and Lizzie's sister. The end is perfect. Available 8/1
xxxxxxxxxxxxxxx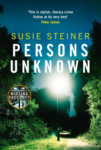 Persons Unknown by Susie Steiner. Mystery and murder unfold in classic Brit style. Multi-layered, well defined characters make their way through intriguing dark secrets in their quest for the truth.
In this brilliant crime novel from the author of Missing, Presumed, a detective investigates her most personal case yet: a high-profile murder in which her own family falls under suspicion.
As dusk falls, a young man staggers through a park, far from home, bleeding from a stab wound. He dies where he falls, cradled by a stranger, a woman's name on his lips in his last seconds of life.
Detective Manon Bradshaw handles only cold cases. Five months pregnant, in pursuit of a work-life balance rather than romantic love, she's focused on being a good mother to her two children: her adopted twelve-year-old son, Fly Dent, and the new baby.
But the man died just yards from the police station where she works, so Manon can't help taking an interest. And as she sidles in on the briefing she learns that the victim, a banker from London worth millions, is more closely linked to her than she could have imagined. When the case begins to circle in on Manon's home and her family, she finds herself pitted against the colleagues she once held dear: Davy Walker and Harriet Harper.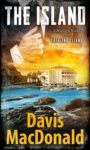 The Island by Davis MacDonald deals with a dysfunctional town, which Avalon (Catalina Island) is with the various competing interest in it. Disfunction in an economic sense and a cultural sense are the difficulties and conflicts under the surface in this town. Its really a stressed environment because the merchants there make money during the Summer and they starve in the Winter. Its a resort town. So I really get into that in "The Island."
Tried and true advice for any budding novelist is "write what you know" and Davis MacDonald knows a lot. He is a law professor, bar chair, investment banker, attorney, dad, grandfather, and now a mystery novelist. MacDonald's ability to intertwine his credentials into compelling fiction gives his stories a credence that can only come from an author who truly "knows." His books: The Hill, 2014 (Palos Verdes), The Island, 2015 (Catalina Island), Silicon Beach, 2016 (Venice), and The Bay, 2017 (Newport Beach) capture the beauty of their locations while at the same time set the scene for The Judge.
According to MacDonald, "The Judge has a legal mind, he is trained as a lawyer, as I am. If you go to a good law school – I went to USC, and I was number one in my class – they don't teach you to pass the bar, they don't teach you to practice law, they teach you a different way to think." It is that difference that makes The Judge a well-defined, three-dimensional character able to approach investigations from the perspective of a qualified legal background. "He's an older man, he's experienced, he was a judge but no longer. He got squeezed off the bench and is a littler bitter about that, so he's grumpy, arrogant, stuffy sometimes, but he doesn't stop. He just keeps going until he finds the answers to things. He's difficult to derail. Once he sets his goals and he goes, he lives it out to the end."
Paperback non-fiction:
Now in middle-age, Murphy discovers what it means to take risks. Married young, she raised her children as the perfect "Winnie the Pooh" type of mom but now finds herself amongst the ranks of a lot of women during this time, embracing an empty nest and in turn finding herself empty.
Murphy's first risk is divorce after 22 years of marriage. "I am learning to make my way through life as a solo person, no longer tied by traditional family bonds, but a loner." Her fears about "How would I pay the bills…what was I going to do about that rat under the sink…how was I going to navigate my sexual behavior as a newly single woman?" she learns to manage, but learning to reshape her life is the biggest risk of all. For that lesson, Murphy purchases an all-black Sportster Iron 883 Harley motorcycle she names Izzy, and goes on a cross country journey.
But it's the journey she takes with herself that outweighs the excitement that the open road offers. Harley and Me, not only tells Murphy's story about risk taking in middle-age, but also educates us through scientific research how taking risks alters our brain chemistry.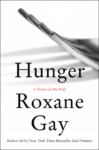 Hunger by Roxanne Gay. Searing and raw, this memoir digs deep down to explore issues of food, weight, self-image and the means we'll take in order to survive. It's Roxanne Gay at her stellar most brilliant best.
New York Times bestselling author Roxane Gay has written with intimacy and sensitivity about food and bodies, using her own emotional and psychological struggles as a means of exploring our shared anxieties over pleasure, consumption, appearance, and health. As a woman who describes her own body as "wildly undisciplined," Roxane understands the tension between desire and denial, between self-comfort and self-care. In Hunger, she casts an insightful and critical eye on her childhood, teens, and twenties—including the devastating act of violence that acted as a turning point in her young life—and brings readers into the present and the realities, pains, and joys of her daily life.
With the bracing candor, vulnerability, and authority that have made her one of the most admired voices of her generation, Roxane explores what it means to be overweight in a time when the bigger you are, the less you are seen. Hunger is a deeply personal memoir from one of our finest writers, and tells a story that hasn't yet been told but needs to be.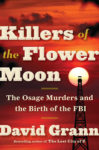 Killers of the Flower Moon- the Osage Murders & the Birth of the F.B.I. by David Grann. Riveting tale of arrogant prejudice, murder & audacious greed is uncovered by a newly created federal team of investigators. Why has this story gone unnoticed for so long?
Xxxxxxxxxxxx
Paperback:
Children by Ann Leary
Rich and Pretty by Alam Rumaan
Another Brooklyn by Jacqueline Woodson Julian Fellowes's Belgravia by Julian Fellowes
The Couple Next Door by Shari Lapena
The River at Night by Erica Ferencik
Carousel Court by Joe McGinnis
This Must Be The Place by Maggie O'Farrell