Upon meeting the vivid, lovely and spirited Susan Hayden, you'd doubt that the word "shy" existed anywhere in her lexicon. Yet it dwells in her internal complexity, a kind of haunting vulnerability that ultimately cements your trust in her generous warmth. It was the sudden loss of her husband that made her resourceful and stretched her in new directions enveloping many a creative soul who ventured into her orbit. It's no surprise that she's an admirer of Gertrude Stein, for Susan Hayden is a poet, playwright and a born salonista, building a congenial family around the events she's produced. As "Library Girl" she's sponsored monthly readings at the Ruskin Group Theatre for nearly a decade now.
No wonder the Santa Monica Arts Commission presented her with the Bruria Finkel / Artist in the Community Award!
Her two poems, "Souvenirs and Evidence" and "Zig-Zag Lady" demonstrate the multitudes that lie within us. They illuminate our own conflicts and contradictions. In recognizing ourselves in her very personal expression of grief, hope, regret and transcendence, we are once again touched by her passion… the desire to bring us together, beyond the digital, to experience our common humanity, person-to-person, to warm our hands and hearts together at an entirely live event! And for that, we are grateful. — Linda J. Albertano
ZIG ZAG LADY

by Susan Hayden
Sometimes I am two people. Johnny is the nice one.
Cash causes all the trouble. They fight. – JR Cash
I learned from Johnny Cash
that wearing black is never wrong;
wore it long before I was a widow,
and expected to.
I learned to live in the mouth of joy
While in the arc of grief,
With a deep belief
in co-existence.
Johnny taught me hope's persistence;
how to perfect a numb,
encumbered smile
while shining, while crumbling.
His was an inner-swagger, an open shield,
which showed me how to yield
when push came to shove-
To rise above temptation, or pretend to.
I've been a celibate whore,
a wayward monk-
and every possible swear-word
in between.
"Lean in," Cash would say,
if he were a Buddhist yogi
But he was just
another Christian sinner
And Faith is elastic:
swaying me to the swordfight,
the promise of flickering light,
if only I tried harder.
Even as The Man In Black
Repelled me
With infidelity and plagiarism-
I pedestalized him,
Identified with his redemption
And humanity;
his double message
like a smashed mirror,
Rear-view and showing me
How clear and fragmented,
How strong and shattered
I really am
I learned from Johnny Cash
That I could love you
like an olde tyme country singer;
conviction-based,
laced with gospels
from his mother's hymn book-
"Where the Soul of Man Never Dies"
"In The Garden"
"When He Reached Down His Hand For Me"
"Soft and Tenderly"
"In The Sweet By-and-By"
"Just As I Am"
But our time was short as Modern Country-
a three minute feel-good, feel-bad song
overladen with adjectives,
an explosive chorus, a redundant verse.
How I curse myself for turning us into
That sheared, haunting ballad
we would both play out,
forcing you to doubt my integrity
Perhaps, if you knew
I was a lot like Johnny Cash,
two people in one body – cut in half
We could hold the ornamental staff
Together,
Balance the right
with the cruel
As no one is a fool here,
and never far
from how you dreamed us into being-
back when there was everything to lose,
and nothing.
Susan Hayden / June 2017
---
Souvenirs and Evidence

by Susan Hayden
The Search and Rescue crew handed me the bag
like a forgotten sandwich. I held it for days;
a Zip-Loc of belongings: his taxi wallet, damp
from melted snow with twelve, crisp hundred dollar bills,
weekend cash to pay for my 45th birthday.
His red bandanna covered in rocks and ice,
smelling of sweat and torn mountain skin.
Our son's fifth grade picture in his wallet:
Hazel eyes, pirate t-shirt, gypsy hair;
face staring back at me with that "I am safe" look.
And then the goggles, still foggy,
still defrosting from a long night and buried.
I held the bag for days; it was the last of him.
Later, when people came to pay their respects,
to tell me how "He was in a better place,"
"He died doing what he loved"
only the ache remained,
like heart surgery without anesthesia.
I would share the bag and its contents
with anyone who was interested.
A friend put her arm around me and said:
"You don't have to worry anymore. All the things
you were afraid of have already happened to you."
Susan Hayden, c. 2016
You can reach out to Susan at any of these links:
haydenallport@aol.com
---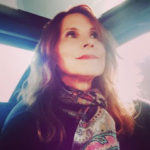 Susan Hayden is a poet, playwright, novelist & essayist. For three decades, she has been a fixture in the Los Angeles spoken-word community. Hayden writes about being lost and found, about identity and belonging, and about love, grief and healing. Her plays have been produced at The Met Theatre, Ensemble Studio Theatre's LA WinterFest, South Coast Rep's Nexus Project, Mark Taper Forum's Other Voices, Ruskin Group Theatre's CafePlays, etc. Her novel, Cat Stevens Saved My Life, was a Top 100 Finalist in the Inaugural Amazon.com Breakthrough Novel Award with Penguin Press. Her fiction has appeared in Storie: All Write, The Black Body, and on Jewish.com.
This year, her story, City of Rocks, a Finalist in the Tara Fellowship for Short Fiction (Heekin Group Foundation) was featured in the online journal, Angels Flight literary west (aflwmag.com). Recently, her work has been published in two anthologies: The bestselling "Weird Scenes Inside the Goldmine: Los Angeles in the 1970s" (Rare Bird Lit, Nov. 2016) & "I Might Be The Person You Are Talking To: Short Plays From The Los Angeles Underground" (Padua Playwrights Press, July 2015). Hayden is the Creator/Producer & Curator of the monthly, mixed-genre literary series, Library Girl, now in its 9th year at the Ruskin Group Theatre in Santa Monica, CA. Hayden donates all proceeds for her show to help sustain the Ruskin Theatre. In 2015, she was presented with the Bruria Finkel/Artist In The Community Award by the Santa Monica Arts Commission for her "significant contributions to the energetic discourse within Santa Monica's arts community." Hayden's proudest achievement has been raising her son, singer-songwriter Mason Summit. She lives in Sunset Park, Santa Monica.