The Last Colony by Juan Agustín Márquez
**BENEFIT SCREENING FOR PUERTO RICAN RELIEF**
Panama Film Festival-LA • Sunday, November 4, 2017
South Park Center Theatre in Downtown Los Angeles
http://piffla.com
by M.G. Poe
PanaFestLA is the creative brainchild of festival director, actor, and Panamanian-Los Angelino Carlos Carrasco. Mr. Carrasco, Hollywood veteran of screen and stage, has co-starred in such feature films as Parker, Double Take, Across the Line, One Man's Hero, Speed, Blood In…Blood Out, The Burning Season and The Fisher King as well guest starring on various television series, and appearing on Broadway. His co-Director is Panamanian filmmaker, videographer, photographer, and editor Maia De Zan Hatch.
Carrasco stresses that part of the purpose of Panafest is to widen the perspective of others regarding the quality of work and diversity to be found across the Latin American world. He speaks of the need to not only broaden the narrow vision people from outside Latino communities have of Latinos, but also the need to broaden that vision that Latinos have of themselves, because even within the Latino communities, internal prejudices and stereotypes exist.
When questioned about the preponderance of socio-political topics included in this year's event he responds:
"The one thing I want to make clear, is that my agenda is not political. Having said that, I also am a great believer that art should not happen in a vacuum. I don't believe in chamber art. I don't see that as a function of art. I think art connects us to the world. To the real world. [Art] can comment on the world, and it can comment on it in a lot of ways. Aristotle said first you must entertain, and then you can educate. The top priorities are still: is it good? Is it well written? Is it well acted entertainment? Is it fun? Is it dynamic? These have to come first. You must first entertain, and then you can educate."
With its preponderance of talent and subject matter, this year's Panafest, is well prepared to do both.
Hosted by the Panamanian International Film Festival (PIFFLA.com), in conjunction with New Filmmakers Los Angeles (NFMLA), Panafest, is the annual international celebration of Latino film, art, and culture hosted. In its third year, this all-day event, takes place on Saturday, November 4, at the South Park Center Theatre in Downtown Los Angeles. Panafest began to create awareness of the filmmaking talents in the burgeoning Panamanian film industry. Today, Panafest has broadened in scope to include films from the gamut of Latin America as well as United States Latino talents. It has blossomed into a fully-fledged multi-cultural Latino festival event that includes visual arts and exhibits, industry panels, music, dance, and even culinary samples (and a complimentary open bar with full-day pass purchase) in addition to its expected catalogue of shorts and feature screenings, Q&A with filmmakers, and wide networking opportunities.
Attending Panafest:
Date and Time:         Sat, November 4, 2017, 11:00 AM – 11:30 PM PDT
Location:                    South Park Center, 1139 S Hill Street, Los Angeles, CA 90015
Ticket Prices:            $7 – $25 Available for purchase at panafest.eventbrite.com
(Buy one get one free offer: use code TribeLA and get two tickets for the price of one)
---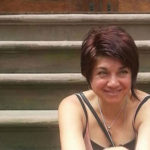 Writer M.G. Poe grew up in Miami, and now makes her home in the City of Angeles. With over 12 years-experience as a commercial and content copywriter for the radio, retail, and landscape architecture industries, she is not ashamed to admit that she can still crank out copy under deadline in two hours or less. She holds an MFA in Creative Non-Fiction from Antioch University Los Angeles, and a BA in Telecommunications-Management from Florida International University. Her non-fiction articles, political discourses, and short stories have been published in numerous publications.
Her loves include wine, travel, music, California culture, politics, and all things feline. She believes in Law of Attraction, anarchy Ursula Le Guin-style, and likes to ponder the peculiarities of the Quantum, especially when working on her current project, a novel about time travel, the multi-universe and the nature of existence. She is also an award-winning jewelry designer producing works under the name of Mac Originals.
Find M.G. Poe at her blog: Life Re-Viewed at 308CherryLane.wordpress.com, and follow her on Instagram @darkvikingqueen and on Twitter @arbitraryphoton