Artist Chris Bonno makes people laugh with his whimsical art and stand up comedy
by Janice Bremec Blum
At the Muse Café on 8th and La Brea in Los Angeles, Chris Bonno is showcasing his latest work that, although hanging on the wall, one would normally see it perched on a sandwich. Tomato-Tomato-Toe MA Toe (and other quizzical meanderings) is an ode to one of our most popular fruits (or is it a vegetable?) as well as some other non-tomato pieces by the artist known for the art that makes you laugh.
​Originally from Houston, Bonno studied fine art at the University of Texas in Austin but unlike a stereotypical brooding painter, he is far from cutting off his ear. This artist is also a comic. Having toured the country doing stand-up, Bonno delivers humor on stage as well as in acrylic. "What can I say?" says Bonno, "The tomato makes me laugh!"
​Sitting in a diner in North Hollywood munching on jalapeño poppers, Bonno gives me some insight into his childhood, "I was one of numerous class clowns in grade school always finding that I had to get a line in if it popped into my head. There's nothing like getting a room laugh from your peers and sometimes teachers. And I was always doodling." It's that combination that gives Bonno his whimsical style. After all, it's not every day you see a painting of a sliced tomato floating above an Arizona dessert titled Tomato on the Range, or a still life of two pears romantically titled Paire de Poires (A Pair of Pears).
But his work doesn't stop there. Bonno also has a knack for portraits. "I love faces!" he tells me, his face with a beaming grin. ​When I asked Bonno how he approaches his work, the answer surprised me. "I paint upside down." While studying art, he was introduced to the concept of drawing from the right side of your brain, drawing upside down. "Your mind kicks into seeing shapes," he explains, "and you see the eyes, ears, nose, and mouth of a subject differently."
​In a portrait of Peter Dinklage, as the character Tyrion Lannister on HBO's Game of Thrones, upside down, Bonno not only saw great shapes, but also cartoon like forms. He then used bold paint choices to highlight what he saw. The result is what Bonno calls a "cool accident." Using sea foam green paint in the cheeks and the jowls as well as the bridge of Dinklage's nose, turned right side up, Bonno discovered the impact that the color had on the overall expression of the subject. Friend and fellow comedian John Fugelsang, star of the SiriusXM radio show Tell Me Everything refers to Bonno's portraits as "capturing the humanity in everyone he paints." The result is a portrait that is undoubtedly Dinklage but quintessentially Bonno.
​Playing with shapes and colors, Bonno chuckles when he explains that he loves the "fuck it factor." Basically, that means going mad in his own world and giving himself permission to be loose. That freeing spirit is found in all of Bonno's work. "I don't leave a painting until I believe in it" he says, "until it impresses me."
When I asked Bonno what advice he would give for aspiring artists, without flinching he stated, "Get out of your own way!" He feels that everyone has their own, private and personal relationship with art and it shouldn't be marred by the critical voices in our head.
Borrowing from the title of Danielle Krysa's Your Inner Critic Is a Big Jerk, Bonno takes it one step further, "Your inner critic is an asshole!" He says poignantly but with a grin. However, he is adamant in his loathe of the phrase, That's good enough. "It's bullshit! That's the critic in your head that tells you to stop but you've got to keep going." Never without a sketchbook, Bonno likes to capture the immediacy and randomness of when an idea or image strikes. "For years, I have pursued cartooning and illustration using a black Pentel pen on paper. It's my favorite way to get a silly notion or gibberish out of my head or draw something that's in front of me or in my mind's eye. I cherish the feeling of pen to paper." And that appreciation is evident in all of Bonno's creations.​
Chris Bonno knows full well that living the life of an artist, whether it be on stage or on canvas, is a life full of sacrifices, but you should never sacrifice your talent. "Don't sell yourself short. There's room for everyone." Who knew that there was so much beauty not only in this artist, but also in a slice of tomato.
ChrisBonno.com
More art work by Chris Bonno…
ART TODAY 11.12.17: Go Whimsical with Chris Bonno as filmmaker David Lynch joins the Bonno elite – Idea: Commission a whimsical art piece as a gift! Details here…
ART TODAY 11.13.17: Watch the hilarious Big Tomato 4-minute video featuring the Art of Chris Bonno
ART TODAY 11.14.17 "Karlof as Mummy" Chris Bonno's paintings hang in the homes of many entertainment industry writers, directors and actors…
ART TODAY 11.15.17 Artist Chris Bonno makes people laugh with his whimsical art and stand up comedy
ART TODAY 11.16.17 Actor, Writer, Painter – Three humoristic ways Chris Bonno expresses himself
https://tribelamagazine.com/art-today-11-17-17-actor-writer-and-painter-whimsy-three-humoristic-chrisbonno-expresses-himself/
TribeLA Magazine's amazing whimsical week with Chris Bonno — Seven things we learned
ART TODAY 07.04.17: "Tomato On The Range" and the story behind it by Chris Bonno
ART TODAY 07.06.17: "Eye of Agamatto" by Chris Bonno inspired by Marvel's Dr. Strange
ART TODAY 07.05.17: Hollywood loves Chris Bonno and Bonno loves Hollywood: the Vincent Price painting
ART TODAY 07.07.17: Steve Martin from the Jerk poster by Chris Bonno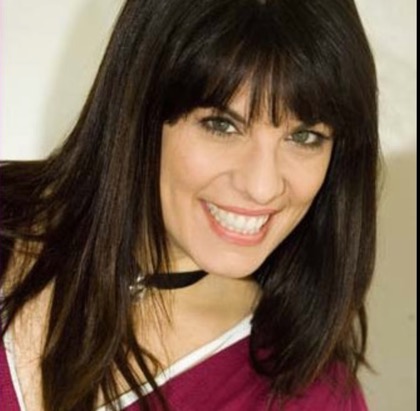 Janice Bremic Blum
TribeLA Magazine Editor-In-Chief
Janice Bremec Blum is Editor in Chief at TribeLA Magazine. She is a multi talented make-up artist with an MFA in Creative Writing from Antioch University.  Her extensive background as a makeup artist in the Hollywood entertainment industry has empowered her to write a book on beauty and make, soon to be published. "The best part about L.A.," says Janice, "it's so diverse and encompasses many different ethnicities and yet no matter who we are or where we hail from, at some point, we will all find ourselves stuck on the 405!" Janice, a fiction Romance comedy writer  lives with her husband Hunter in Los Angeles and they are both art collectors. You can email Janice at [email protected]