Meaning is what makes Art
By Hattie Xu
​Intense eyes, a warm laugh, and beach-tousled hair, Hagop Belian looks every bit like an artist-in-residence in Venice, California. Born in Damascus, Syria in 1977, Hagop immigrated to the United States with his sister when he was just twelve years old. As a Syrian-Armenian, he is motivated to preserve his culture and share it in a way that challenges stereotypes. "I want to show that not all people from the Middle East are terrorists or brainwashed into hurting others," Hagop said. "The Middle East has a lot of beautiful qualities. The beginning of civilization, mathematics, music—there [are] a lot of things that came out of that land."
​In his studio on a bare wooden floor, stacks of his works covered in bubble wrap rest against blank walls, which gave way to large open windows at the end of the room. This is the home of a man whose life is dedicated to his art but still feels an innate connection to the world around him. Hagop uncovered some of his pieces and his evolution as an artist became clearer. He has worked with everything from acrylic paint to wood resin, which he incorporated strongly into a period of found-object art. He has spent hours rummaging through thrift stores and yard sales looking for interesting objects, like doorknobs, to create a piece. Hagop's interest in collage, whether it is created from physical items or digital images, always leads back to the idea of synergy. "The product is greater than just the sum of its parts," Hagop said. "You could take really simple things, and together, they create this really powerful message."
​One of Hagop's "Aristocrats" paintings is a woman wearing a draping headscarf and an embroidered blouse. Her features are pretty and delicate, with small petal lips and thin brows. But this is not just a depiction of a Middle Eastern woman—a large dragonfly with its wings spread obstructs the view of most of her face. "Metaphysically, the dragonfly represents the breaking of an illusion, and the fact that it's over her eyes [shows] the breaking of the illusion of the Middle Eastern woman," Hagop explained.
​Despite the complexity of his art, Hagop is mostly self-taught—the extent of formal art training he has received is a drawing and design class at Santa Monica College. Around the time he was working on his mathematics senior thesis from the University of California, Santa Cruz in 2001, Hagop had an extremely vivid lucid dream of himself covering a canvas with paint. Upon waking up, Hagop realized that he needed to hold onto that feeling he had experienced while painting. He purchased art supplies that weekend, and the rest is history.
​Like many a Renaissance man, Hagop finds that his background in mathematics has helped him with his art. Composition—the placement of objects in a space—comes to him easily, and he just "knows" how things should be oriented and where they should go. But more than anything, Hagop stresses that meaning is what makes art. "It's not about how beautiful something is," Hagop said. "It's about how it changes a person's view. […] Art becomes something when it's beyond the creative—it has the mind to support it. There needs to be a reason.
This post was originally published on January 24, 2017, and has since been updated.
Feel free to contact or visit Hagop's website at http://madeofhagop.com.
Instagram: http://instagram.com/madeofagop
Twitter: http://twitter.com/madeofagop/
---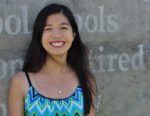 Hattie Xu is a staff writer at TribeLA Magazine and a student tentatively concentrating in cognitive neuroscience at Brown University. She is curious about the intersection of the mind and the brain, and she aims to use both science and journalism to more thoroughly understand how people think. Outside of class, Hattie enjoys exploring large cities, discovering the diverse cultures that exist within them, and listening to people's stories.
---
Hagop Belian as Artist of the Week:
Thank you Hagop Belian for opening our eyes to your culture and giving us a view through the Cracks
ART TODAY 07.09.17: "Behind the Cloud" by Hagop Belian — This week, Out of the Cracks–Hagop's Aesthetic Commentary on Female Muslim Marginalization